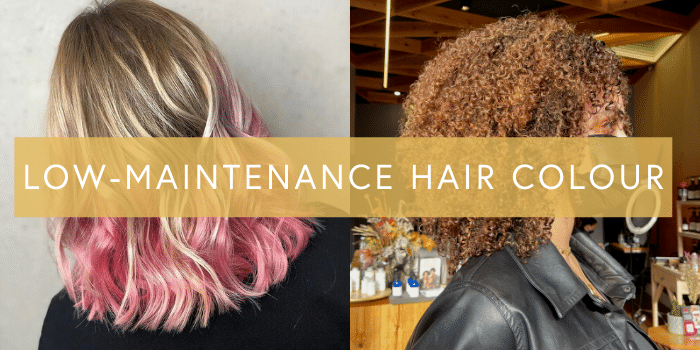 OUR TOP LOW-MAINTENANCE HAIR COLOUR TECHNIQUES
Looking to freshen up your hair colour without the commitment of dying your whole head? For ultimate hair inspo, check out this highlights roundup of low-maintenance hair colour techniques.
WHAT IS A BALAYAGE?
French for 'sweeping' Balayage is famed for its luscious lived-in colour. Balayage is a type of highlight that never touches the root, instead, the root is normally kept as the more natural darker hair colour. Your stylist will use a hand painting technique to apply the bleach to your hair, resulting in a softer, more sun-kissed type of highlight.
Balayage can take on many forms, not just the traditional icy or warm blondes, but coppers and brunettes. Extremely low maintenance, Balayage blends effortlessly into your hair's natural regrowth, meaning upkeep can be anywhere from three to five months.
"Balayage is more multi-tonal, low maintenance, relaxed colour. The emphasis in Balayage is on the hand painting technique used to apply the bleach, which is unique to each stylist. It's perfect for creating a hue of lightness that is extremely soft blended and natural-looking.
To maintain your balayage I recommend Oway Colour Protection Bath (shampoo) to prolong the life of the colour, along with Colour Protection mask once a week for the health of the hair. Oway Silk'n Glow Serum gives a nice healthy high shine to the hair resulting in a smooth flawless finish. A small amount can be applied to the mid-lengths and ends of the hair daily."   Declan Colour Director.
WHAT IS OMBRE?
Meaning 'shadow' in French, Ombre is a graduation of hair colour that melts softly from a dark root into light ends. The Ombre (shadow) is created by the naturally darker root colour. Your stylist will apply bleach to the lengths of your hair in an almost identical technique to balayage, using foils.
Ombre gives a naturally blended colour lift to the lengths of the hair, creating low maintenance dimensional colour that grows out and blends beautifully. Depending on hair growth, the upkeep for Ombre can be from three to five months.
"Ombre is a blended two-tone colour, the colour through the ends is often denser. A lot of people mistake ombre and balayage as the technique are similar. So what's the difference? Ombre has more pigment of colour through the ends making the colour pop a little more.
If you like to cover your roots regularly it doesn't disturb the root colour. Products I would recommend for colour longevity are Hblonde Hair Bath to protect the blonde, coupled with Oway Hmelt mask." Michael level 2 Stylist Streatham.
WHAT ARE HIGHLIGHTS?
Highlights are ideal for creating depth, giving the illusion of fullness, and blending greys in or away. Simply, highlights are small sections of hair that are dyed a few shades lighter than the original/base colour, with the aid of foils. Depending on the sectioning and layering of the foils, highlights can be bold, subtle, or used to frame the face. Applied from the ends of the hair to the root, the upkeep of highlights ranges from 8-10 weeks, depending on personal hair regrowth.
"The highlights technique involves selecting sections of the hair to lighten, this can be performed with very fine sections or very thick sections, depending on the desired end result. The technique is more uniform so you know you are getting the same level of finish each time. Highlights are applied a lot closer to the root than what balayage is, a shadow is often added to the root to create a more seamless blend. Highlights are a good option for a stronger all-over colour change than dying the whole head, offering a much softer grow-out than having a full colour.
Alternatively, highlights are good for blending in greys and tricking the minds into not seeing the individual grey strands. I would recommend Oway's Colour Protection range, use the Colour Protection hair bath with the Colour Protection hair mask once a week, both products deeply cleanse and prolong the colour while adding shine. They also protect from sun, water, and pollution damage." Declan Colour Director.
WHAT IS DIP-DYE?
Dip dye is a classic two-tone colouring technique. Compared to Highlights, Balayage, and Ombre, which all give a much more natural growth effect, Dip-dye delivers a dramatic colour contrast. The root is kept dark, your stylist will apply bleach to the lengths of your hair, focusing on the ends.
The final result is a blending of two contrasting colours, giving the effect of grown-out colour.  Super low maintenance, Dip-dyes upkeep is five to six months.
"The dip-dye is more of a high contrast blend of two colours. Think of dip-dye as a more dramatic kind of ombre. It's most often used for making a fashion statement and adding fun pops of colour. I would recommend Oway's Rebuilding Range. The range helps to rebuild damaged hair structures and strengthens the hair fibres against external aggressions. Team up the Rebuilding Bath and Rebuilding Mask for the best result, add a small amount of Oway's Nurturing Drops to the ends daily." Declan Colour Director.
Ready to fresh up your hair colour? Book your appointment now.