Impact
YAY! We got it! It wasn't easy, nor was it simple, but transformative and totally worth it! Definitely. Blue Tit has officially been granted a status of B Corp!
You might be asking yourself what actually is a B Corp & why is it such a big deal?
In this short article I will shine a light of understanding on both of those questions, so let's start from the beginning, shall we?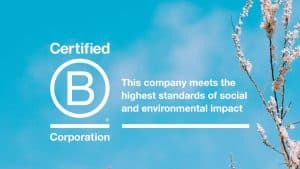 What happened? 
Blue Tit is the first hairdressing salon group  in Europe being awarded Bcorp status for our efforts in minimising our environmental and social impact
What is Bcorp?
Benefit Corporation, better known as B Corp is a certification issued to for-profit companies by B Lab (a global nonprofit organisation with offices worldwide).
B Lab certification is a third-party standard,  requiring companies to meet social sustainability and environmental performance standards, meet accountability standards and be transparent to the public according to the score they receive on the assessment
We scored 85.3 points!
Governance – 18.4 points
Workers – 28.2 points
Community – 18.5 points
Environment – 17.3 points
Customers – 2.7 points
B Lab certification applies to the whole company across all product and service lines and issue areas. In the simple terms, it is like a deep cleanse, wash and blowdry of the company. ?
Why does it matter? 
Key to slowing down the climate change is decarbonizing of the economy but regulations are slow. Salons are the high environmental impact businesses so we wanted to play our part right and lead the way.
Social impact is another key area of focus, creating a great place to work and sit in the community as a supporter of youth clubs and charities.
Why would it matter to you? 
Clients of Blue Tit support the vision of a sustainable and ethical future. Just last year we accomplished:
-Calculated environmental impact and offset 110% of the emissions and set goals for the next 3 years
-Created a transparent impact report available for you, stating all efforts conducted annually (scroll down to find it)
-We reduce over 10.000 plastic bottles to enter the landfill or the ocean
In essence, we needed to recognise and honour the truth of interconnectivity on every level of running our business: from issues in our immediate community to the supply chain of the products we use in the salons, distribution, the environmental impact of our day by day activities to good customer stewardship, nothing is swept under the carpet.
Why is it so important?
Obtaining Bcorp status is an evolution of huge magnitude. We are proud to be the first hairdressing salon group in Europe and UK (there are only two other salons in the US that managed to obtain it) leading the way to new world business, ethical and sustainable, always improving and ultimately caring for the good of all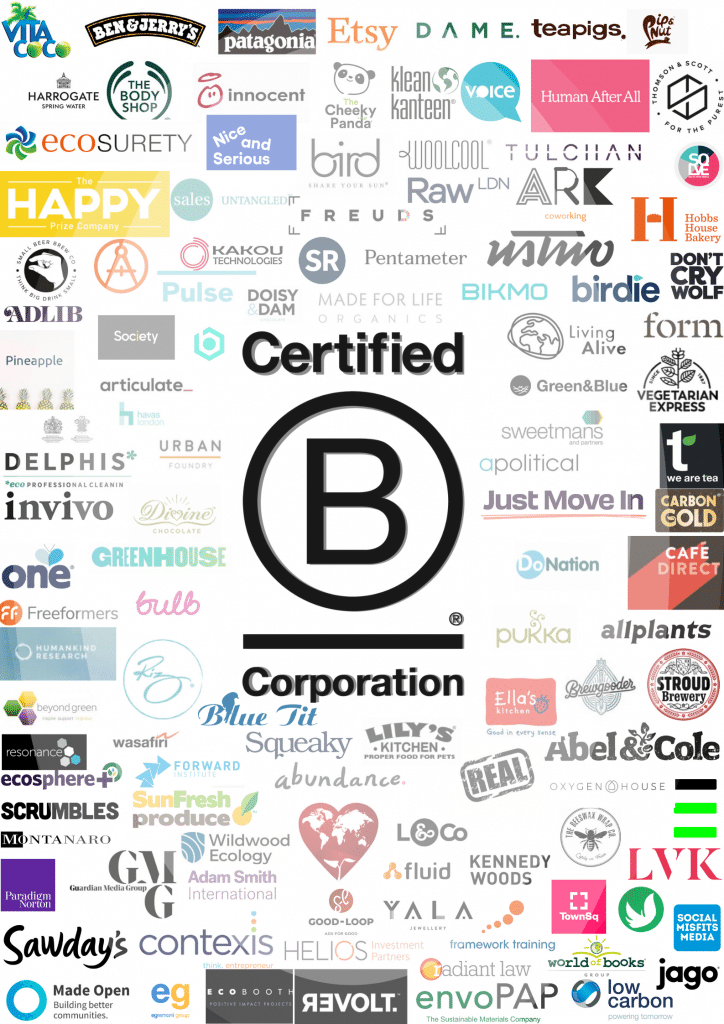 To find out more about Bcorp , its members and the great plan head to bcorporation.net
---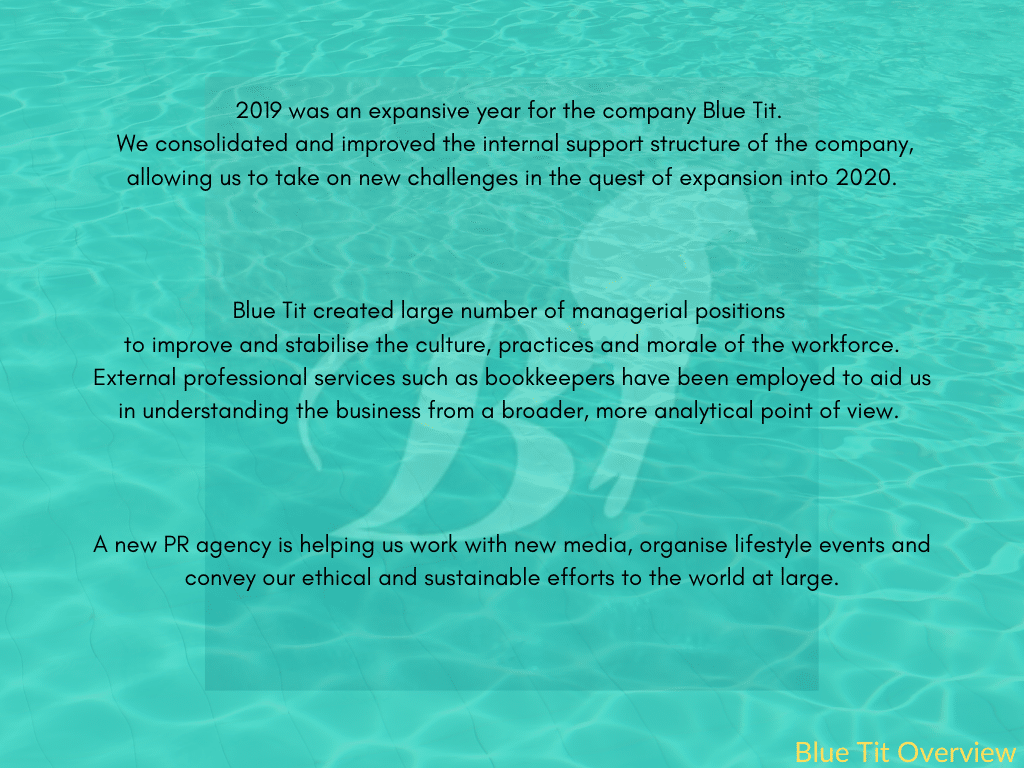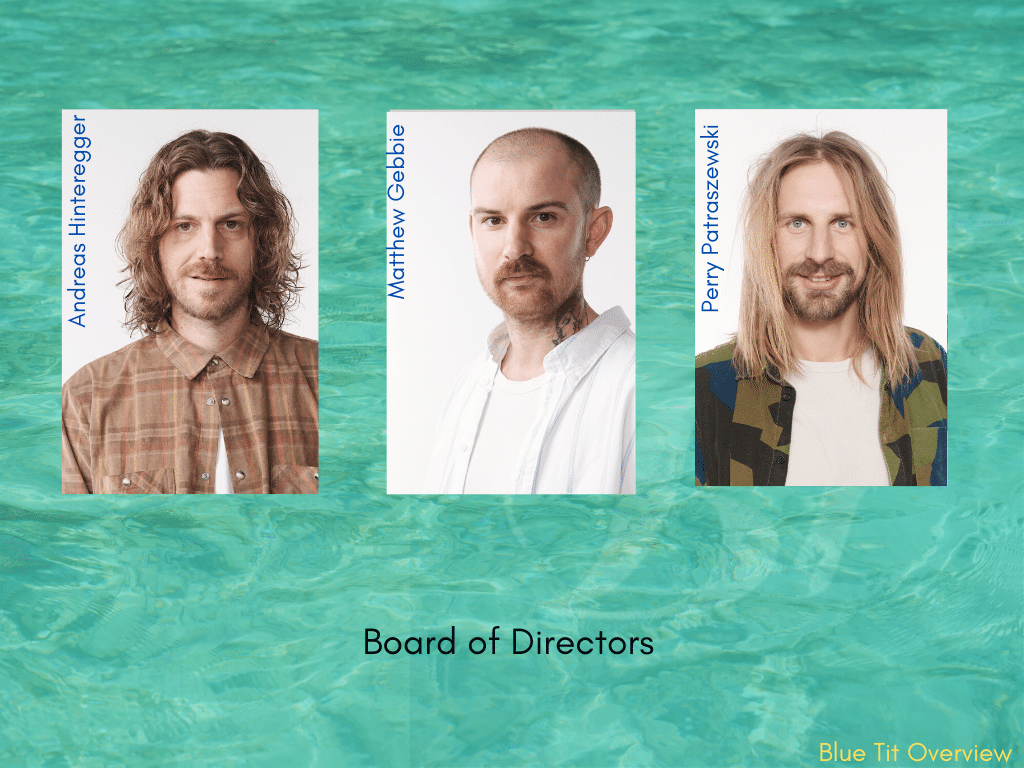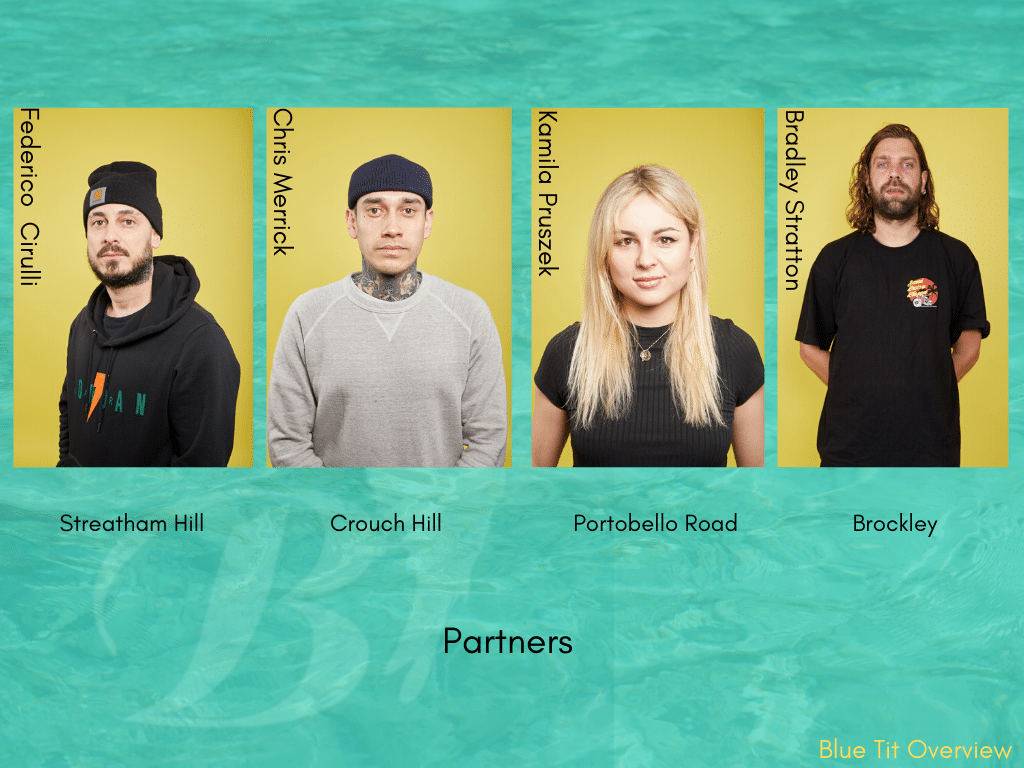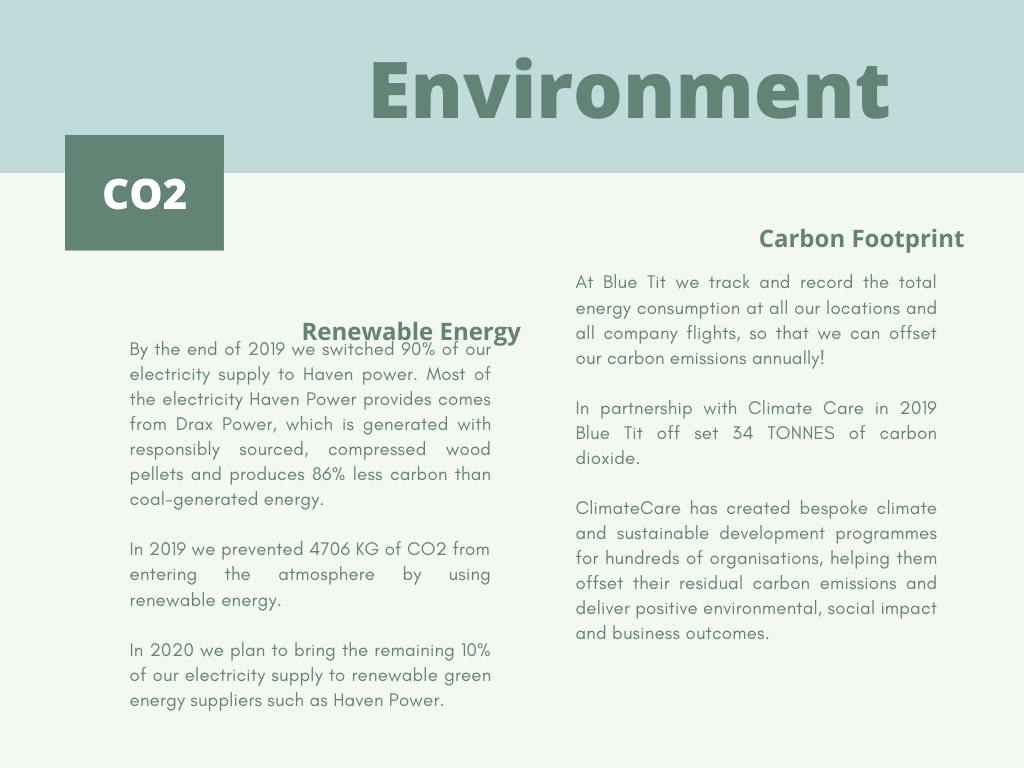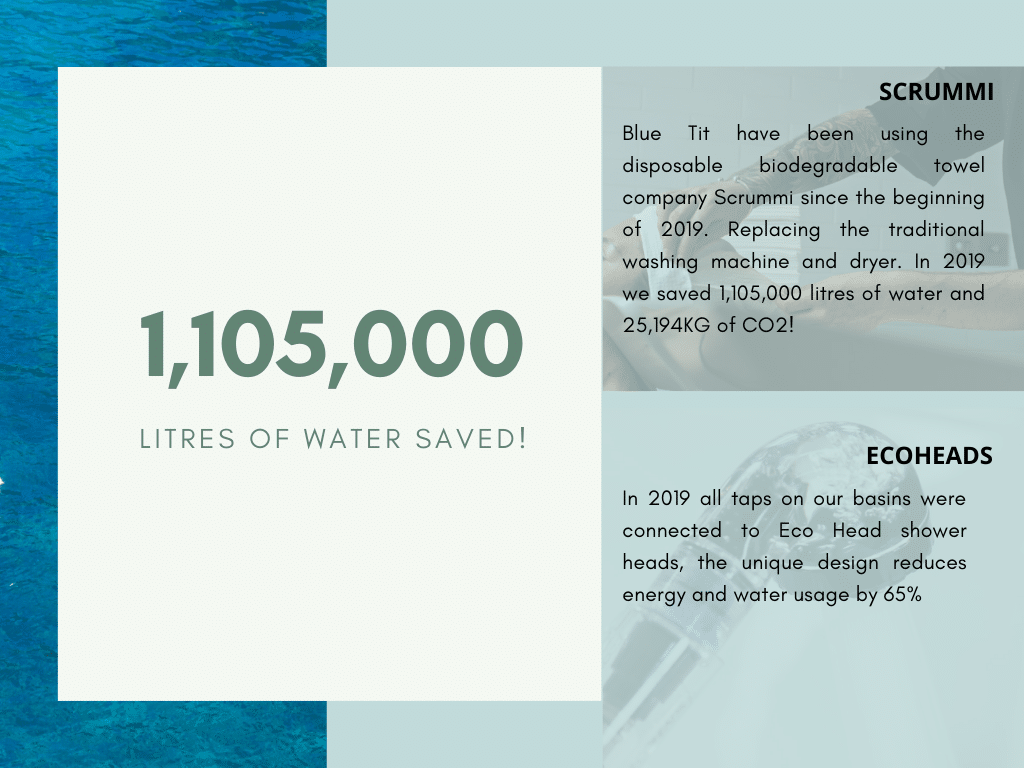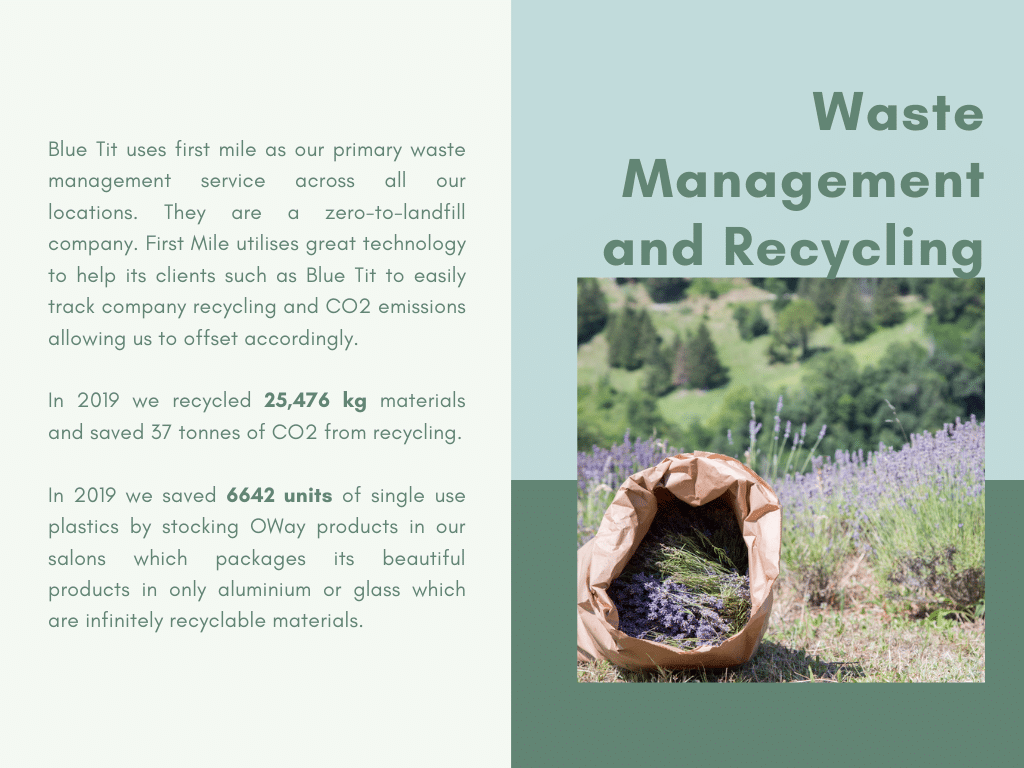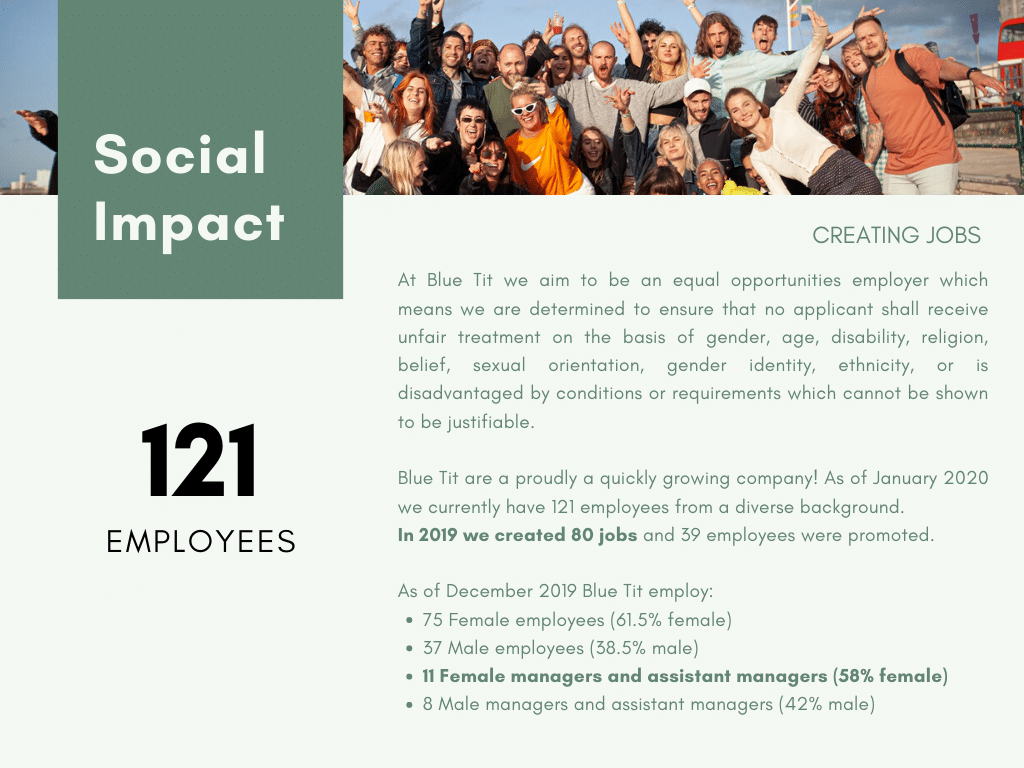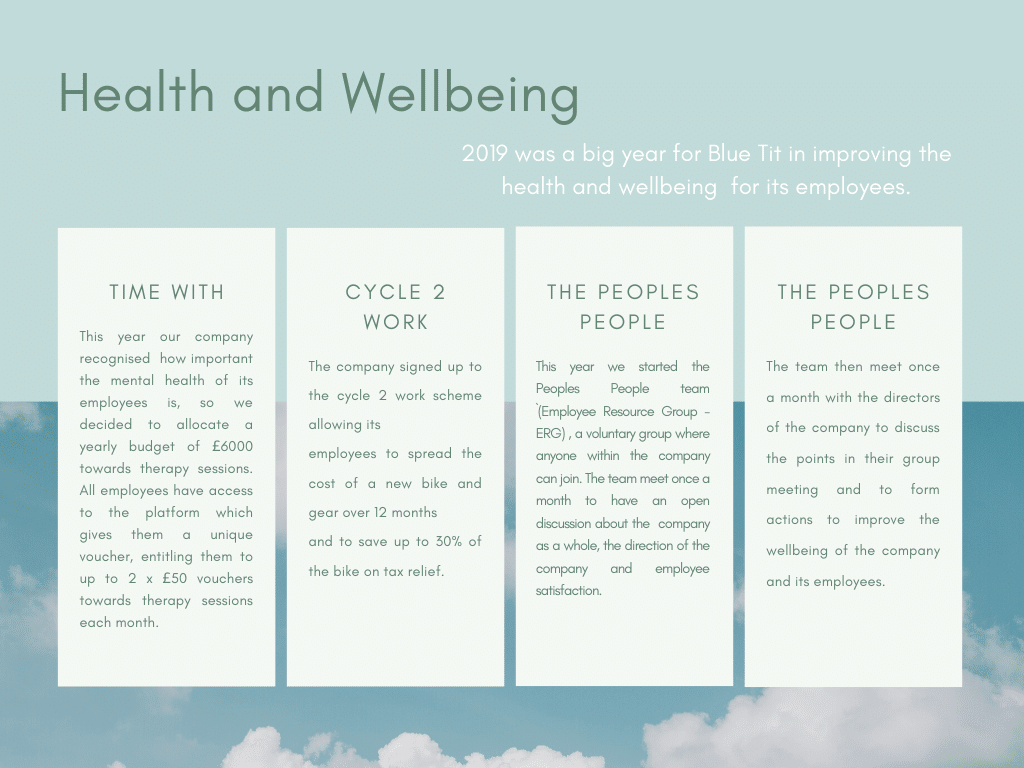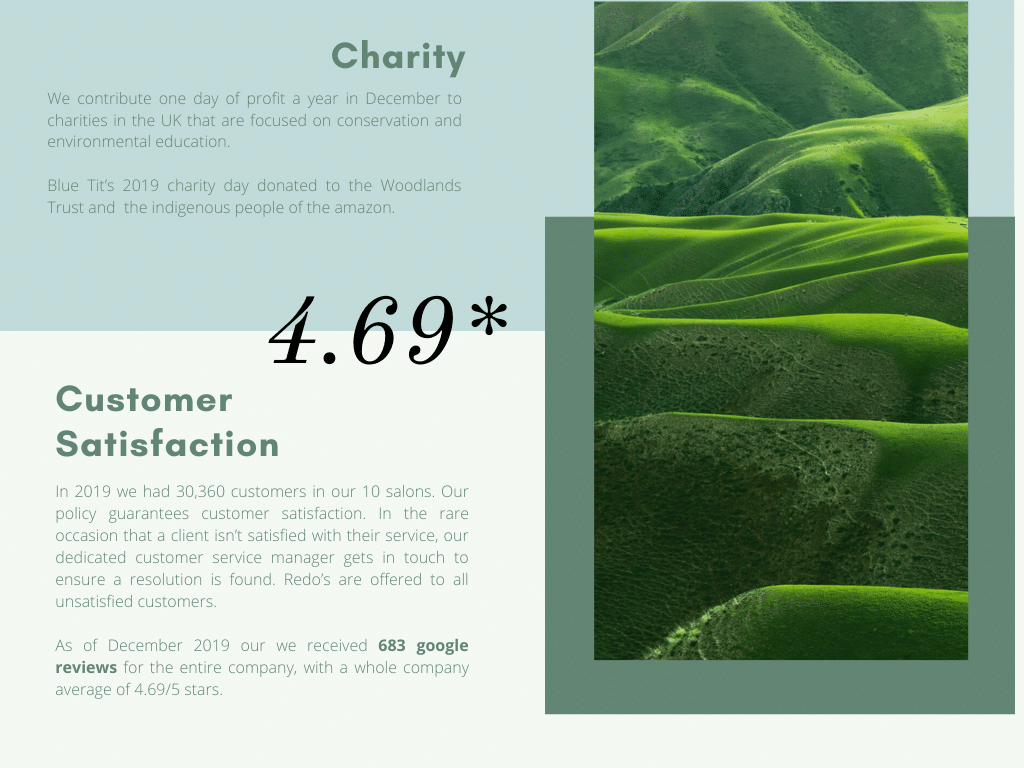 Blue Tit is a collective of individual lifestyle salons in all corners of London.
On a global scale, the haircare industry uses huge volumes of product every day and the beauty sector generated over 142 billion units of packaging in 2018 alone. Sustainably conscious, Blue Tit is proud to be Global Creative Directors of organic, biodynamic botanical Italian haircare brand Oway. The innovative Oway range is packaged exclusively in glass and aluminium and is the world's first professional hair care, treatment and the colour line made with pure essential oils,cruelty-free and with no toxic ingredients.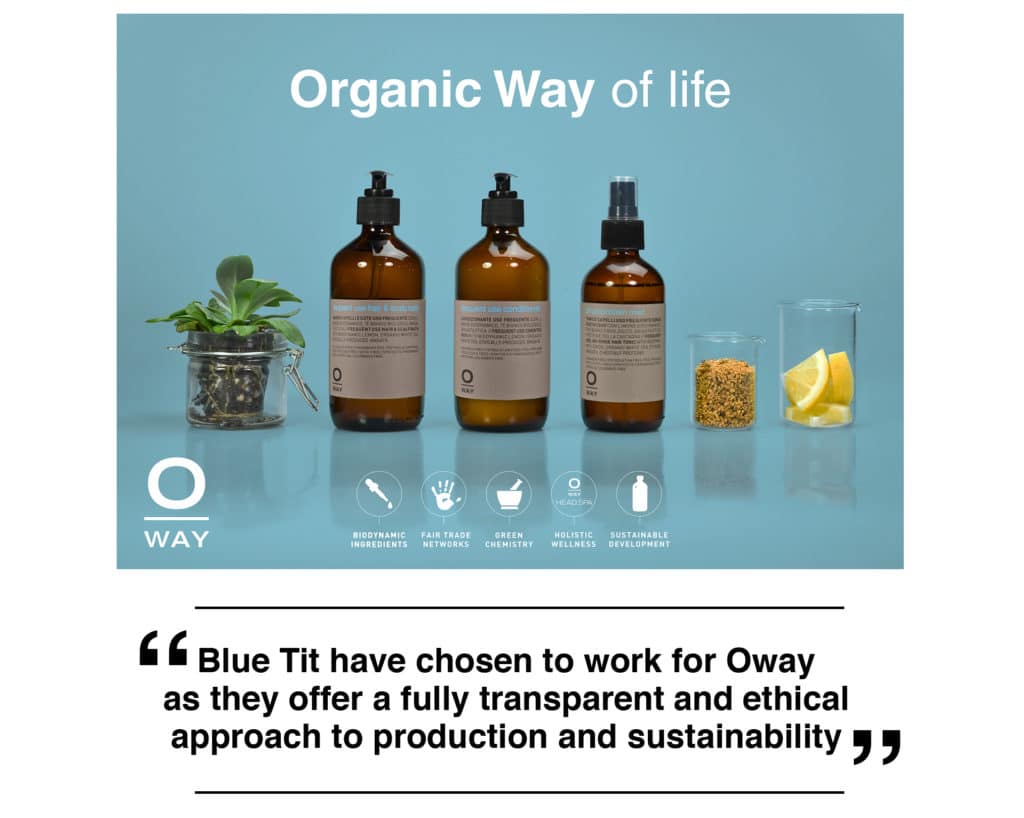 Blue Tit have chosen to work with Oway as they offer a fully transparent and ethical approach to production and sustainability. Pledging to do more for our planet, Blue Tit uses 100% biodegradable towels, EcoHeads, and recycles over 90% of its waste and use recycled or upcycled materials wherever possible in all our spaces. Blue Tit's passion for conscious consumption, respect for sustainability and innovation is at the core of its approach to every treatment, service, client and salon.
The Purpose and Values of the Business
Blue Tit believes that our earth is a precious place and we have a moral responsibility to honour and care for it as much as we can and great hair should not stand in the way of sustainable future of the pale blue dot.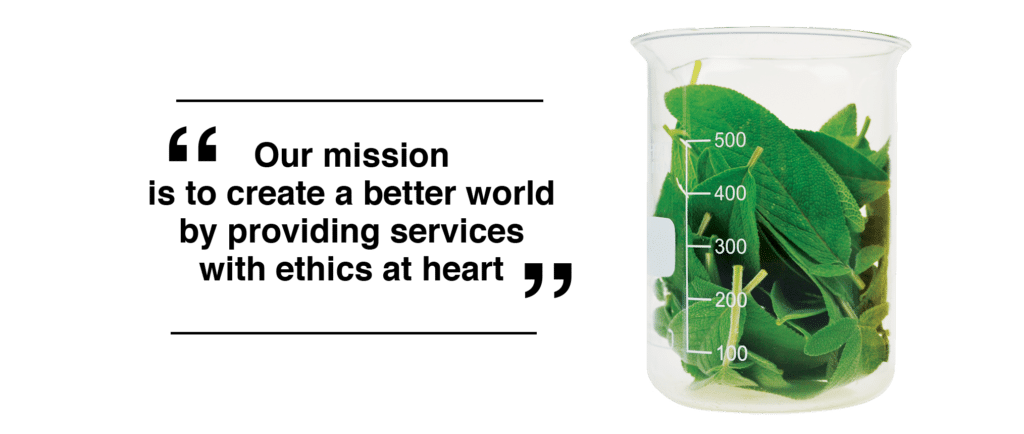 We all need bold, creative or bespoke hair to enhance our personal identity but we believe it should not harm anyone or anything but in turn, do better. Our business objective is to help clients fulfil their hair desires through our services provided using the most ethical and sustainable products available at this point in time and space. We value clear communication, great hair and individuality, those points are some of our top priorities and we are putting a great deal of effort to always improve on them. Ideally, every client engagement helps to raise awareness on sustainability and impact we have. Our mission is to help businesses create a better world by providing hairdressing services with real ethics and sustainability at heart. We do this through careful research and responsible strategy followed by massive action. Our values underpin the work we do, the fight we fight and the changes we are looking to bring up to lead the industry.
Employees
Without its employees, Blue Tit is a bunch of pretty empty salons and nice hair care products. As a professional services company, our employees are the heart and head of the organisation. We seek to nurture the talent, health, happiness, education, and skills of our employees. In turn, we hope that employees will be respectful of each other and of clients, colleagues, and partners outside the company. We are a young company but we have big plans to help our staff become the best versions of themselves. We strive to honour the diversity of our staff and to promote their ideas, work, and aspirations. We seek to create a salon in which the skills and talents of each employee are best used to help us achieve our overarching goals. All employees have access to a regularly updated employee handbook that provides details about benefits, socials, volunteering and other work-related information. Discrimination, of any kind, is not consistent with our mission and values, and it will not be tolerated.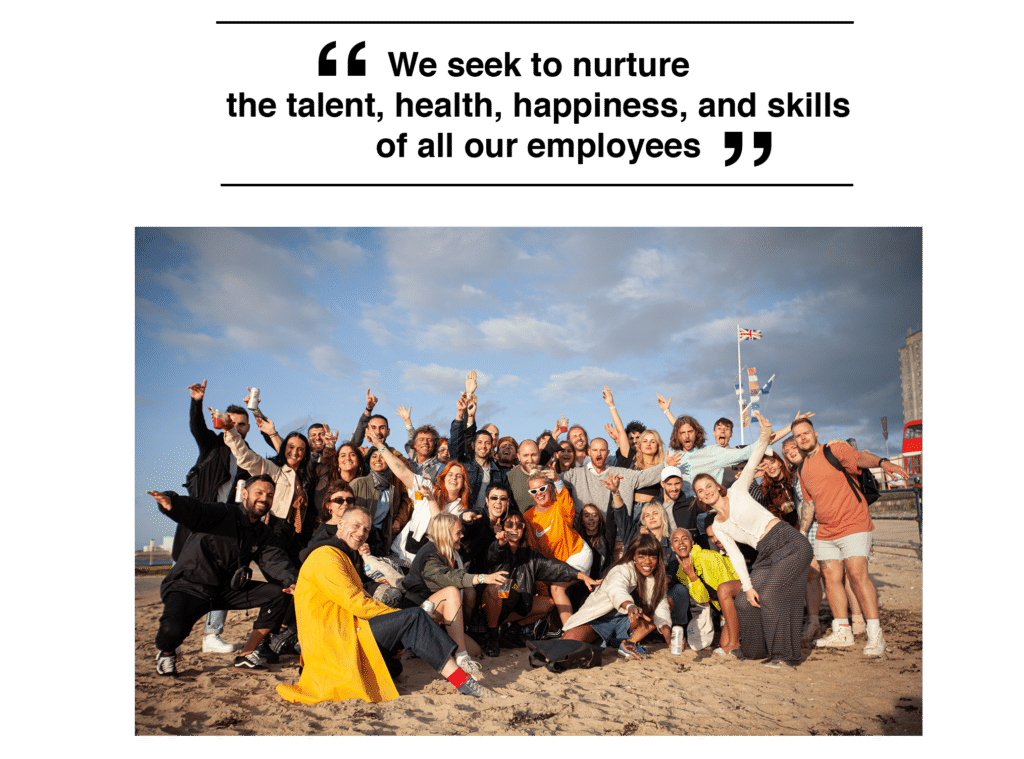 All Blue Tit employees are expected to respect their co-workers' property, and will treat all clients with dignity and respect. Blue Tit prohibits against poaching clients from other stylists and bad-mouthing other stylists' work or abilities. In turn we encourage employees to exhibit the highest levels of integrity and professionalism in their dealings with clients and each other.
Professional Conduct
The National Hairdressers' Federation of UK has built a foundation for professional conduct in the field of Hairdressing and Barbering since 1942. As a member of the organisation, Blue Tit upholds the NHL's publicly available Code of Conduct for hairdressers This document includes a number of core ethical that form the bedrock of our services at Blue Tit. For example, the document indicates the procedure of allergy alert testing. Our anti-corruption policy permeates the company culture and operations. we have a zero-tolerance policy on bribery & corruption by whistleblowing & monitoring our structures on a regular basis. Here you can find information about formal oversight policy covering direct or indirect political contributions, charitable donations, and sponsorships. In the policy mentioned above Blue Tit requires all information about financial and in-kind contributions to political parties, politicians, lobby groups, charitable organisations, and advocacy groups to be publicly disclosed.
Suppliers
We rely upon our vendors to provide the highest quality products and services available. These include, but are not limited to, hair care product manufacturers, accounting, bookkeeping, software. We believe in the prompt settlement of bills to and from Blue Tit and a quick resolution to any disputes with suppliers. All things being equal, including quality of services provided and cost, we reserve the right to choose vendors, suppliers, and other partners that are owned by women, minorities, persons with disabilities, and underrepresented groups. We will always seek to work with B Corporations as well as conscientious companies, social enterprises, mission-driven companies, and not-only-for-profit organisations.
Community 

Our company does not act in a vacuum. Our existence is made possible by the quality and delivery of local, provincial, including, but not limited to, government services like NHS, a court of law, parliamentary democracy, and national defence. Our obligations to the natural world are countless as well; we receive and enjoy an abundance of clean water, air, and energy. In light of this, our obligation to the spirit and letter of the applicable laws of the land is paramount. We will protect and preserve our natural world and be involved in our local community.
Sustainability
Whenever possible, we will work with local organisations to provide educational opportunities, sponsorships, or giving. Nationally and internationally, we will work to better the service of hairdressing and help the world become a healthier and more equitable place. Blue Tit will continue to assess,reduce & offset its carbon footprint, recycle and reuse products, and source sustainably produced haircare and other products. We aspire to keep sustainability a core feature of our practice, our work habits and workspaces, our services, and our aspirations for ourselves, our clients, and our planet. While far from perfect, we aspire to do what's right for the place we call home. We contribute one day of profit a year (December) to charities in the UK that are focused on conservation and environmental education. From September 2019 Blue Tit is a carbon-neutral company.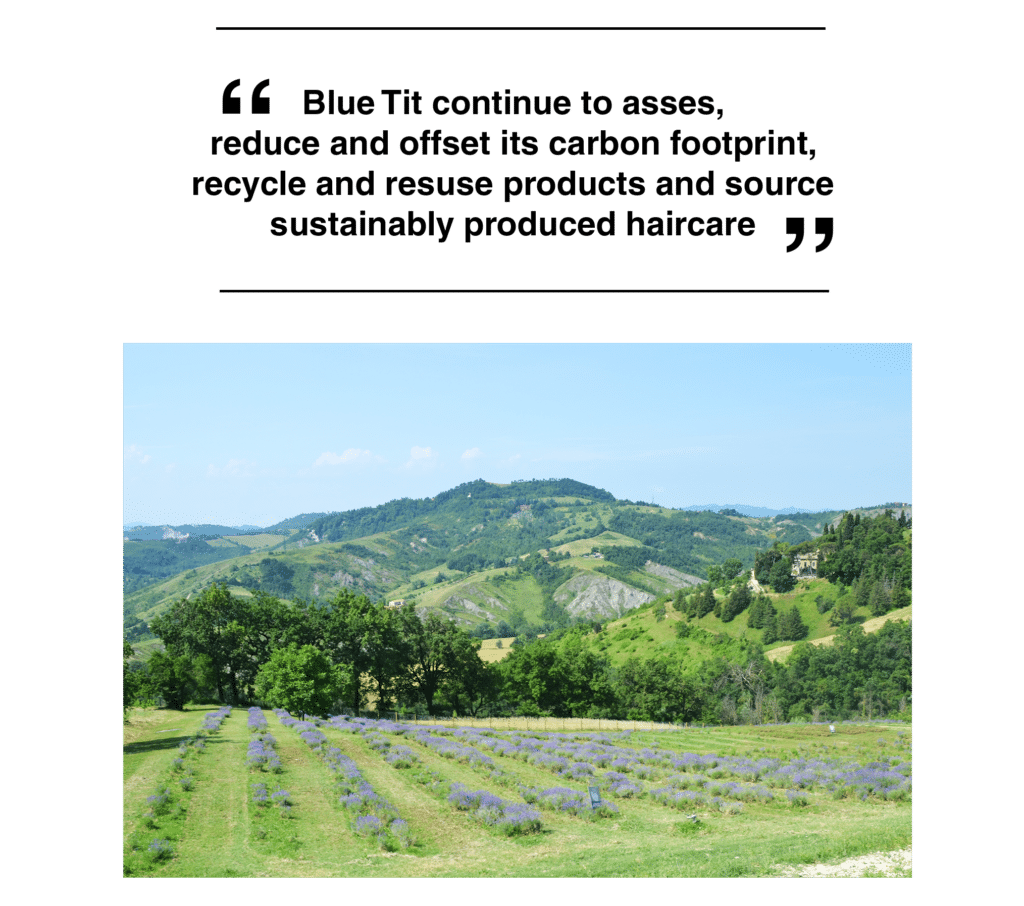 Blue Tit adds a green section to our external & internal newsletter. Integrating sustainability tips in our communications plan can help spark and reinforce green behavior. We encourage discussion about our sustainability goals. We share sustainability successes. Blue tit is also host a recycling events throughout the year. We are encouraging our employees to adopt & sustainable practices in their home offices such as recycling, using green energy suppliers & reducing their energy consumption.
Supply Chain
Blue Tit with its commitment to sustainability ethics and transparency as developed Compliance Programme and Code of Conduct for Manufacturers and Suppliers please refer to the external link for detailed information.
Review, Accessibility and Transparency
We will review this code of ethics annually to ensure that it reflects our values, our communications and our actions. This code of ethics will be posted publicly online with the hope that it might act as a model for other design and marketing agencies. Once a year Blue Tit publicly discloses Impact Report that includes Membership of the Board of Directors and Beneficial ownership of the company. To make sure you get the latest version of the Report please opt-in to this Mailing list
Reporting
The only way to know if Blue Tit is upholding this code of ethics, is if employees, clients, colleagues, partners, and others let us know. As a values-driven organization striving to continually improve, we invite this feedback and accountability.