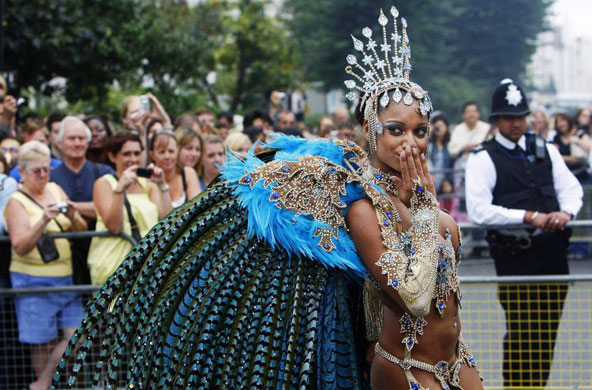 We Love: Carnival!
This is no glorified village fete… Carnival is London's greatest street party! If you don't no you better get to know.
If you have never frequented the mass of crowds and joined in the Sunday/Monday fun with Caribbean roots and London soul then get yourself down to Notting Hill this bank holiday weekend for dancing in the street combined with copious amounts of alcohol (namely red stripe or rum punch get you in the spirit) and stalls upon stalls of Caribbean food favourites.
Not for the faint hearted – carnival is pretty full on and does often get a bad rep for violence – but it is no more dangerous than any other festival so don't believe all the bad "hype" press!
This year our favourites – Sancho Panza and Good Times are both taking a year off. But we for sure will still be getting our groove on!
Here's some tips of how to make your carnival experience a success…
Take some drinks with you – it can be a stressful once you've got to a good plot to get to a bar through the crowd and a pain to keep doing the bar trip throughout the day.
Meet up before you make your way in – with so many people flocking to one place phone signal can be a nightmare. Planning to meet friends "in there" can be a disaster!
Don't be late! Most of the street parties are blocked off from 2pm onwards to stop overfilling each area. It kicks off at 10am so to avoid disappointment get down there early – once they shut off areas you'll be stuck wandering the streets trying to get into the next party along which could well be already closed off too.
Beware!! – It may sound strange but there are carnival floats in the parade that cover themselves and passing revellers in chocolate, paint or flour. If you are not game for getting that kind of messy then be on the look out or prepare to get a face full!
Avoid carnival cliches – Rampage is the most well known area but it is always rammed and not worth being crammed like a sardine for, Gaz's rockin' blues should be avoided at all costs, hit the family stalls for food and swerve anything levi roots is plugging!
Go hard or go home! There is no point going to carnival with a bad attitude. It's a day all about good vibes. You might get shoved out of the way a few times but take it with a pinch of salt and don't let it get to you. When alcohol, reggae beats, basslines and dutty wining are combined in small crowded spaces you are bound to get knocked a few times! Just go with it!
And finally, it's London's most colourful festival so be playful with your outfit and hair – now we're not suggesting you step out of your comfort zone and don a string vest or bedazzled jewel bra and go full corn rows on us! But do check out our festival hair blog for some inspiration!