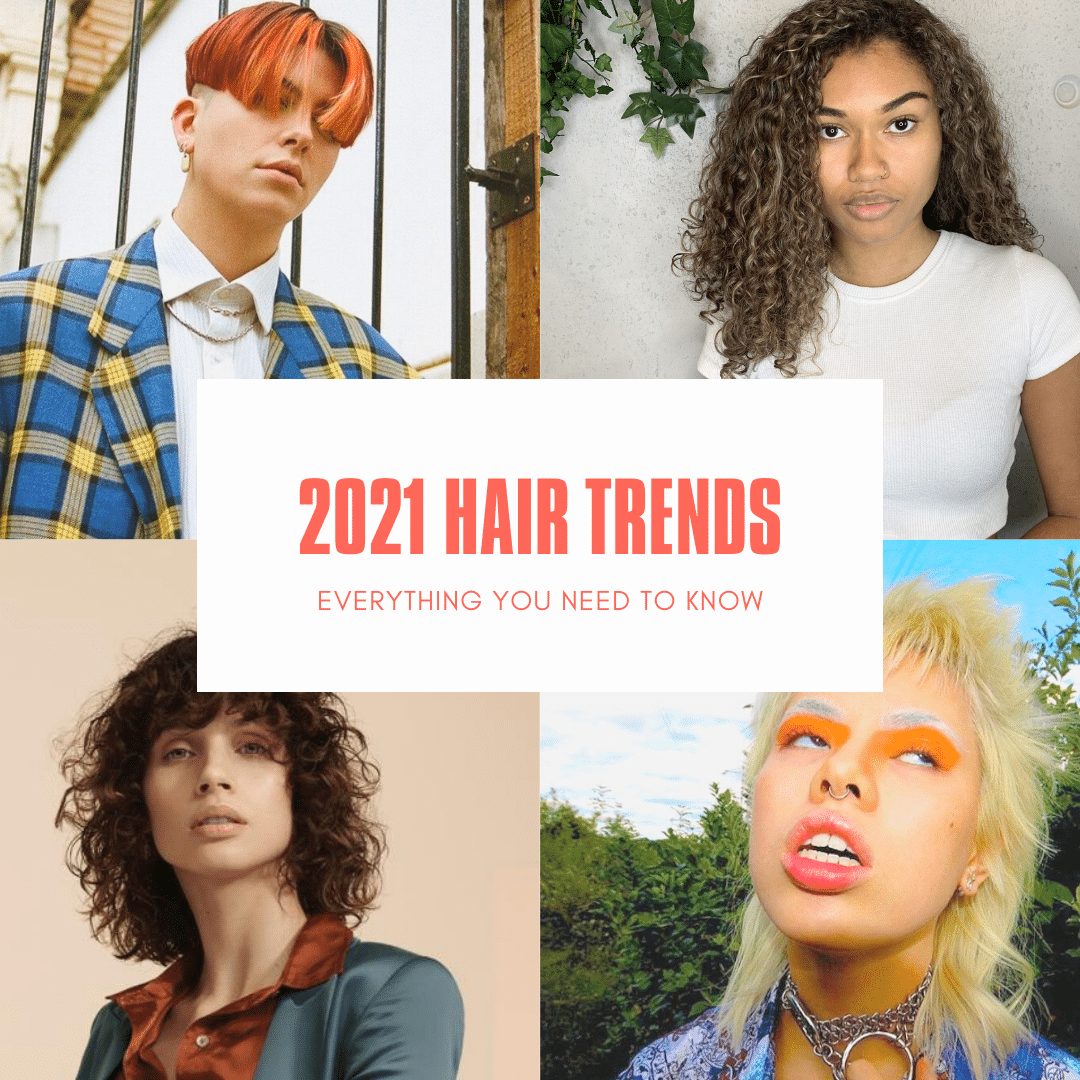 Blue Tit's 2021 Hair Trends!
BLUE TIT'S HOTTEST HAIR TRENDS PREDICTIONS FOR 2021
From modern mullets to brighter bobs, our Blue Tit team unveils major hair trends for 2021, sharing insights, tips and favourite product picks that will dominate the industry this year.
THE MULLET
The return of the mullet is here and set to be the biggest hair craze of 2021. 
Queen of the mullet cut – Jemima, from the Blue Tit Portobello comments, "A lot of people think the mullet emerged in the 80s but the first people to have mullets were actually the Romans. It was a craze amongst the young men. It then went through the 50's then to the 80's where it was made cool by the punks, queers and skinheads. And now we are here with the reinvented modern mullet that is the newest trend."

Top Tips from Jemima:
"Mullets can take a lot of upkeep, but styling it is easy! As a get up and go hair style, sea salt is a great product for everyday styling, it can help show off any texture if it feels a little flat or if you have lots of natural texture already and you want it to settle down, creams are the best products to reach for."
Recommended Products:
THE SHAG CUT
The shag cut is another retro style that is on the rise, Chris Merrick Co-Owner of the Crouch Hill Blue Tit predicts it will be the hottest new return this year. 
"The shag cut originated in the 70's and was worn by the likes of Farrah Fawcett, rock Icon Joan Jett and many others. This style is amazing and can be worn with various lengths of hair. With short layers framing the face and rest of the hair, you could go from a short shag to a longer version or even cut it back to its original form meaning it is very low maintenance and versatile."
Top Tips from Chris:
"The products needed to style the shag cut depend on the texture of your hair. Generally, sea salt spray is great to help with texture or for curly hair the Oway Curly Potion works well. Finish by scrunching the hair and letting it dry naturally or diffusing and maybe even turn your head upside down for some volume!" 
Recommended Products:
CURTAIN HAIR BANGS
Originating in the 90's, famously worn by boy bands to movie stars such as Johnny Depp or Leonardo Di'caprio, curtain bangs are making a comeback. 
The style is versatile when it comes to length, it can be worn in a short with tapered sides and a longer fringe, or an all over long style. With the simplicity, versatility and freedom with this style there is no doubt this cut is going to be a big hit, according to Chris Merrick Co-Owner of the Crouch Hill Blue Tit.
Recommended Products:
AFRO HAIR TRENDS
The strong movement towards transitioning to natural hair is here to stay, according to Blue Tits Afro & textured hair educator, Sharley Butcher. 
"2021 will see lots of 'big chops', tapered cuts, blunt but textured bobs with bangs, deep side partings, pixie cuts and 'mermaid hair' using weave, passion twists or braids to achieve the length"
Block colours and autumnal tones will be the go to look this year. 2021 will bring us the much needed auburn, red, copper, and cinnamon tones, as predicted by Sharley.
CREATIVE COLOUR VS. CARAMEL LOCS
From bright creative colours to the more natural coloured highlights, we have two opposite colour trends that will equally rival and champion this year. Forget virtual backgrounds and let your hair colour set the scene.
"As everyone will be spending more time at home a short cut with a bold colour is definitely one to blossom this year" according to Ollie, stylist at Blue Tit Streatham. "I have already seen a lot of people cutting their hair and going for bright colours and when it's done right and the condition is upheld it's the perfect canvas to put vivid colours over."
One of our colour experts, Julia, stylist at Blue Tit Topshop, comments "People are now looking for more creative colour designs than ever before. 3 years ago people wanted a scalp bleach and pink all over, now it's creative sectioning , multicolour and gradients."
"Caramel and golden blonde highlights are perfect for the transition into summer or even to bring some warmth into the winter season. They are a nice way to add dimension into the hair." – Ollie, stylist at Blue Tit Streatham.
Top Tips from Julia:
"For bleached hair I love silk'n'glow series, colour protect or olaplex, glossy nectar has heat protection so it's great if hair get styled often. Rebuilding mask is great choice as well if hair a bit brittle, will work with finer hair. Silk'n'glow mask will be heavier so would not recommend for thin or finer hair. 
Instead of overusing blue shampoo that can be a bit drying for your hair you can get a colour protection mask and add a little bit of any purple colour to it. 
If hair is coloured avoid using too hot water, any sort of penetrating/cleansing shampoos (with sulphate, proteins, dandruff) because they might strip the colour faster unless it's your goal, then use it."
Recommended Products: